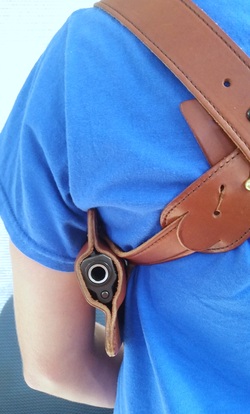 As many Texans likely know by now, we have a new "Open Carry" law that goes into effect January 1, 2016. In conjunction with this, DPS will be revising subsequently issued handgun licenses to eliminate the words "Concealed Handgun License" and replacing our 20-year old "CHL" terminology with "License to Carry", or LTC as the new abbreviation.

For whatever (controversial) reason(s), the new law (House Bill 910), states that handguns carried OPENLY must be in a "belt or shoulder holster". This - and a lot of unsettling thinking - prompted me to take the adjacent photograph last week in the privacy of our classroom using a (triple checked unloaded) semi automatic pistol in a pretty typical "horizontal" shoulder rig.

So yes, you ARE seeing and reading this correctly. Come January 1, any one of us could very well be standing in the checkout line at Lowe's, Kroger, Walmart, etc and find ourselves looking down the muzzle of a LEGALLY carried handgun in a HORIZONTAL shoulder holster. (Yes, VERTICAL shoulder holster rigs, although not as common, are available.)

The new law includes a provision for businesses to be able to simply ask license holders to leave if they do not want them carrying openly on their private property. The law also gives specifications for sizing and specific verbiage (in English and Spanish) of a new "30.07 sign" that businesses can place at entrances if they want to prohibit open carry of handguns.

While some extremist "pro gun" folks take the position that the "non gun" people should just "get used to seeing handguns in public", horizontal shoulder holsters that "muzzle" people, in my no-so-humble opinion, is NOT going to be a good way to be a good ambassador for the Second Amendment. All it will take is a very small number of license holders carrying openly in holsters as described in the adjacent photo for us to see hundreds - if not thousands - of 30.07 signs going up all over the state by February 1.

Since the late 1990s in especially Hunter Education classes (and sometimes in CHL classes), we instructors have presented various scenarios and asked students to answer 3 basic questions for each scenario: Is it a safe shot? Is it a legal shot? Is it an ethical shot? In regard to the open carry of handguns in horizontal shoulder rigs, I conclude with similar as food for thought for what, by January 1, will be very close to 1 million Texans with a license for this option.

Question: Is it safe?
Answer: See NRA Rule #1 and Jeff Cooper's Rule #2.

Question: Is is legal?
Answer: Re-read the first three paragraphs above, see Texas DPS web site and House Bill 910.

Question: Is it ethical?
Answer: See Webster's Dictionary definition: "The discipline dealing with what is good and bad and with moral duty and obligation."

Thanks for reading - and thinking about it all. Feel free to leave questions or comments below and/or share this far and wide with those who may have need or interest.