How do I contact you?
Please read through this web site before emailing or calling with questions. This web site (including photos in the slide show on the home page) has the answers to at least 95% of questions. At the bottom of the home page is typically a listing of scheduled Open House periods for talking face to face.
Email: dcsa1996@yahoo.com
Cell: 972-849-0075

Where are you located?
409 Copper Canyon Rd., Argyle, TX 76226
We are located on the north side of the DFW metroplex, just south of Denton. The drive to DCSA is less than 1 hour for most in the DFW metroplex. Many of our members are from nearby Argyle, Lantana, Flower Mound, Highland Village, Lewisville, Grapevine, Corinth, Bartonville, Roanoke, and Denton.
Google Maps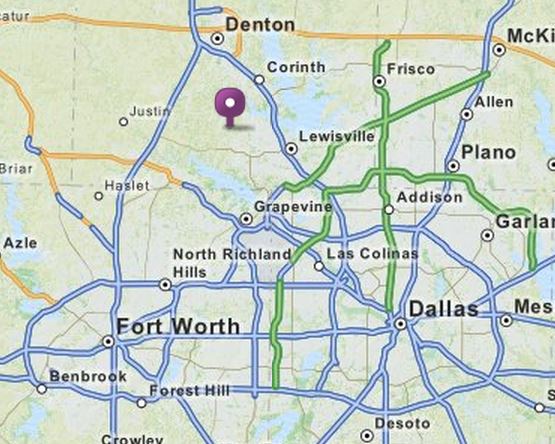 What are your hours?
The gun range office does not have any "standard office hours" whatsoever. We have an "Open House" periodically where newcomers are welcome to come see the place, discuss membership, classes, etc. Our "Open House" times (often followed by the minimum 1-hour new member orientation) are listed on the front page. Otherwise, DCSA Freedom Plan members come and go to the range independently. Appointments are possible for private consultations, individualized training, etc. at $60 per hour on weekdays and $80 per hour on weekends (if available).What size is the gun range?
The range is indoors only with 2 shooting lanes, five lighted target positions and electric target carriers out to 50 feet. We have a lighted "skills trail" for use in simulated scenarios in hunter education classes, but no actual shooting is allowed outdoors.Who are the primary instructors?
DCSA director Lonnie Ward has been teaching CHL/LTC courses since the inception of the program in 1995. He has multiple DPS and NRA certifications and has been in the Texas Parks & Wildlife Hunter Education Hall of Fame since 2002.

Wallace Foy serves as a Police Officer in the Dallas/Fort Worth area and is a TCOLE Certified Police Firearms Instructor with over 20 years experience in the use of the rifles, handguns and shotguns.

See the Instructors page for more informationHow do I become a member?
See the "Membership" page.

Do you offer private classes?
Yes. Every class that we offer (with some caveats on Hunter Ed) can be done privately for individuals or groups. Contact us to discuss your circumstances and your schedule.What discounts are offered?
A $31.88 discount is available on classes for those who have a current Freedom Plan or have taken another class from DCSA in the previous 12 months. This $31.88 covers gun range orientation, initial facility use fee and the liability release, so you only need to pay for it once. Contact Lonnie at dcsa1996@yahoo.com to receive the Eventbrite discount code. Military veterans can present a copy at class of their DD-214 for a $10 refund (or credit toward Freedom Plan). Active duty military or local school district staff can present applicable ID at class for a $10 refund (or credit toward Freedom Plan).

What calibers and ammo can be shot?
Handguns up through .45 caliber for Freedom Plan members. PISTOL CALIBER carbines (Acceptable "Pistol Caliber" carbines include .357, 9mm, .40 and .45. .223/5.56 NOT included.) .22 RIMFIRE rifles (including AR-15s with 22 conversion kits) are also OK, as well as shotguns with BUCKSHOT ONLY. NO other center fire rifles are allowed except in private sessions arranged in advance with an instructor. Suppressors are allowed. Not permissible are full auto firearms, frangible, pre-fragmented or incendiary ammo, birdshot or exploding targets. Is reloaded ammo allowed?
Reloaded ammo can be used by DCSA members while practicing. Factory ammo only is required during testing by LTC students.

Do you sell ammunition and/or firearms?
While we do stock a small amount of ammo for student purchase if necessary for classes, DCSA is not geared for retail sale of firearms, ammunition or accessories.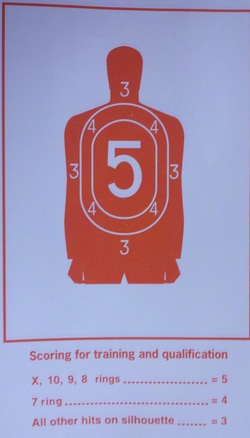 What is required for the License to Carry Shooting Test?

The Texas DPS "Demonstration of Proficiency" consists of 20 rounds fired from 3 yards, 20 rounds from 7 yards and 10 rounds from 15 yards on a standard B-27 target (see slide show on home page). In general (for practice purposes in advance), anyone who can safely manipulate their handgun and place 7 out of 10 rounds on an 8 1/2" X 11" sheet of typing paper at 7 yards should have no problem getting the minimum 70% score required for a "pass" on the CHL shooting test.

DCSA Procedures: Until instructed otherwise, leave your handgun and ammunition wherever it is. When your assigned time comes to shoot, take your handgun and ammunition directly to one of the 2 shooting stalls. Unless so instructed otherwise, keep all gun manipulations in the shooting stall; never in the classroom or in the back of the firing room. Unpack and re-pack your shooting equipment only when and where instructed to do so. When your time to shoot, only the following 5 or 6 items should be laid out on the shooting bench:

1. Handgun with magazine out and slide locked back (or if a revolver, cylinder empty and open).

2. 1 Unloaded Magazine (plus loading tool if needed)

3. 50 rounds of factory ammo (preferably in a box; if not, laid down in 10 rows of 5 rounds per row)

4. Eye Protection (available if needed: hanging on south wall of firing room)

5. Hearing Protection (available if needed: hanging on south wall of firing room)

The loading and firing sequence will be explained in detail each time just before it is to happen, generally 5 rounds at a time. There is no time limit for loading. Upon the command "Rack and Ready", chamber a round (or close cylinder on revolver) and assume the "Low Ready" position (stance, grip, muzzle at a 45 degree angle toward floor) and BREATHE. Then listen for specific instruction on how many rounds are to be fired and how much time is allotted for the upcoming drill. (The greater the distance, the more time allowed.)

The target will start in the dark. When the light above the target is turned on, that means "fire". When the light goes off, it means "cease fire, time is up". If you have any questions or need to make any adjustments before the light comes on, keep the gun pointed down range and raise your weak hand and we can deal with whatever. Once the light comes on, there are no alibis if all of the specified shots cannot be completed within the specified time frame; any unfired rounds cost 5 points each. (175 points out of a possible 250 is required for "pass".)

Students should discuss with instructor in advance their comfort level with malfunction clearances. Those who can safely do so before time expires are welcome to do so. Otherwise, keep the gun pointed down range, raise weak hand, wait for other shooter (if any) to finish and the instructor will step into your shooting stall to assist with clearing the malfunction.

Upon completion of firing the 50 round "proficiency demonstration", the targets will be scored pass/fail, generally while still hanging. Thereafter, students will be instructed to re-pack their handgun and other equipment in the shooting stall (NOT in the back of the firing room).


Do you offer NRA classes?
Yes, but generally only on a private basis (such as the "First Steps" class), especially if someone requires a specific type of certificate. Contact us to discuss your circumstances and schedule.

Do you offer Utah, Florida or Arizona CCW classes?
No, although several of our class certificates (as well as a military veteran's DD-214) are recognized in some other states. We encourage any Texas resident considering any other state's license as a substitute for a Texas CHL to attend an "Open House" for discussion of why such may not be a very good idea.



---