Welcome to www.dentoncountysports.com,
the biggest little "Home Study" site in Texas!
Denton County Sports Association, Inc.
"A Private Palace for Pistol Proficiency"
Training Testing Practice!!!
The balance of this page and at least the 3 pages in red letters on left should be considered "SHOULD KNOW INFO." for all prospective students and/or shooters and a parent or legal guardian of any participant under 18 years of age. Depending upon specific interest or certification desired, the "home study" may take from 7 minutes to 7 hours ...
Located just northwest of Flower Mound, DCSA is a private indoor shooting range where safe and responsible Texas concealed handgun license students with annual memberships can do independent "draw and fire" practice in the months and years following their CHL class. Students are also encouraged to join us (and others all over the state) for "continuing education" at www.texaschlforum.com.
Scheduled and private class completions day or night, rain or shine. No rain-outs. No soggy shoes. No wind blown targets. No qualifying with fire ants in your pants. And no big crowds. We prefer to treat our students like people, not cattle.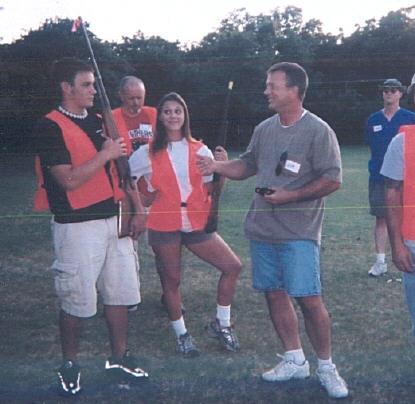 Facilities minimize weather problems: Gravel parking, lighted skills trails, indoor gun range. 2 indoor classrooms utilized for beginner rifle, pistol and defensive shotgun training, Texas concealed handgun license courses and hunter education classes.
Conveniently located for residents of Argyle, Bartonville, Carrollton, Coppell, Corinth, Copper Canyon, Denton, Double Oak, Justin, Flower Mound, Grapevine, Highland Village, Keller, Lantana, Lewisville, Roanoke, Southlake, Trophy Club and The Colony.
Dallas, Fort Worth, etc. residents welcome (IF they also complete "required reading" pages on this web site first!).
409 Copper Canyon Road
Argyle (**Mail Route) TX 76226
** If you found us via a reference to classes in Flower Mound, you've found the right place. Due to state computer software limitations, our "city listing" has been shown for years as "Flower Mound" - although we are actually located in an unincorporated area of southern Denton County (5 miles west of I-35E in Lewisville). Those who live in the Arlington or Grapevine areas often drive north from DFW Airport area on FM 2499 to FM 407. See "Directions" page on left for more specifics.
National Rifle Association (NRA) Rifle and Pistol Classes for Novices.
Pre-CHL and Post-CHL training available for the "consciously incompetent".
DPS Concealed Handgun License Courses: Original or Renewal.
Texas Parks & Wildlife Hunter Education Home Study Completion Courses.
Independent access to indoor shooting range for draw and fire practice for qualified citizens with Texas CHL (+ LEO, FFDO)
Self Defense insurance for Freedom Plan members with current Texas CHL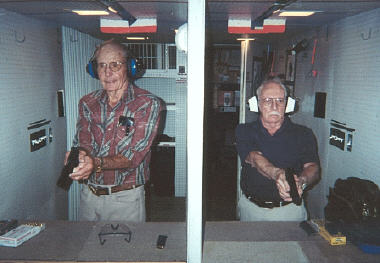 Specializing in basic handgun courses, private training and concealed carry permit classes.
"You will not rise to the occasion. You will not default to your level of training. You will only default to the level of training you have mastered." - James Yeager, SWAT, October 2008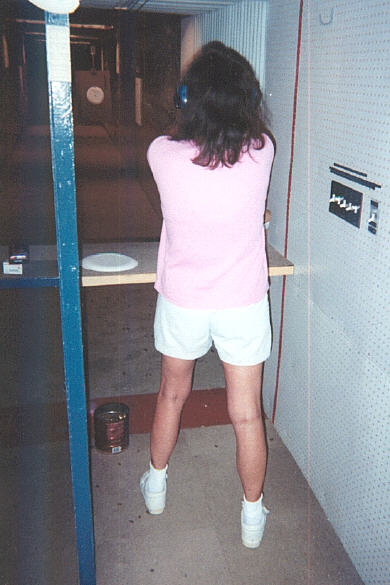 Flower Mound lady practicing controlled rapid fire on the most popular type of target - picnic plates at 3 to 7 yards. Freedom Plan members also welcome to bring their own IDPA targets.
"Being a redneck is OK. Being a stupid redneck is not."
Hunter Education "Home Study" students: If serious interest in completing a "Field Day" at DCSA, please click on the link in yellow text immediately below to continue our "required reading" pages:
Hunter Education Course Frequently Asked Questions & Home Study Links
All others, to continue, please see
General Information "Should Know" Info. for all first-time web site visitors.
and/or scroll (on top left) to topics of interest. n License
DCSA Facebook Page: http://www.facebook.com/dentoncountysports?sk=wall
------------------------------------------------------
(Home Page) Last Updated 09/09/2013 07:48 PM