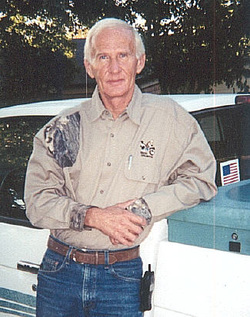 Lonnie
An avid hunter since childhood, DCSA Range Officer Lonnie Ward has over fifty years experience with various types of shotguns, rifles and handguns. In addition to the certifications below, his training ranges from Israeli Defense Forces concepts to Appleseed Rifle clinics, including "the patch". Lonnie serves as the primary contact during most "open house" periods, orientations, scheduled and private classes.
National Rifle Association Instructor Certifications:
Basic Pistol
Basic Rifle
Muzzleloading Rifle
Home Firearms Safety
Personal Protection in the Home
Chief Range Safety Officer
State Instructor Certifications:
Texas Department of Public Safety - Concealed Handgun License/License to Carry
Texas Department of Public Safety - School Safety Certification (New for 2017: Special 15-20 hour course for School Staffs)
Texas Parks and Wildlife - Hunter Education "Hall of Fame" 2002
On September 1, 1995, Lonnie Ward was among the first group of instructors certified by Texas' Department of Public Safety to conduct the CHL training. He has certified over 8,000 students in scheduled and private courses. Lonnie utilizes a broad range of firearms in classes at DCSA and, when applicable, at other locations.
---

Wallace
Wallace serves as a Police Officer in the Dallas/Fort Worth area and is a TCOLE Certified Police Firearms Instructor with over 20 years experience in the use of the rifles, handguns and shotguns.
---