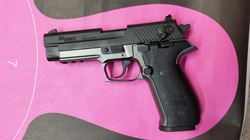 This is the first in a series of blog posts about various training firearms available to DCSA students.
"Newbies" should not be intimidated by some of the necessary jargon that follows in this post and others in the coming months. Our classes and "hands on" sessions in the both the classroom and the range are geared toward getting students familiar with proper terminology, safe gun handling and marksmanship skills and at least "conscious competence", whether with one of our firearms or one they already own.
I lead off this series with the Sig Mosquito, because if someone can learn to operate all the controls on the Mosquito, they will generally be able to understand and operate just about any other semi-automatic pistol. The Mosquito is chambered in 22 Long Rifle, known for minimal recoil and use of inexpensive ammunition (at least in "normal" times).
The Mosquito's primary claim to fame is its size and ergonomics, virtually the same as several of Sig's line of handguns chambered in 9mm and above. The takedown lever, decocker, slide latch and magazine release are in virtually identical locations to some other popular Sig centerfire handguns. It also has an ambidextrious thumb safety and 3-dot sights.
The Mosquito has a DA/SA (Double Action/Single Action) trigger assembly, which is representative of the action on some other Sigs as well as several other manufacturers.
Also like many other handguns, the Mosquito can be finiky about ammunition. The primary recommendation by the manufacturer is generally CCI Mini-Mags for maximum reliability. Thankfully, the one we use is well broken in and generally runs great, even with the less pricey brick ammo.
All of that adds up to the Mosquito being a fine little pistol for "learning by doing" or just having some old fashioned plinking fun!