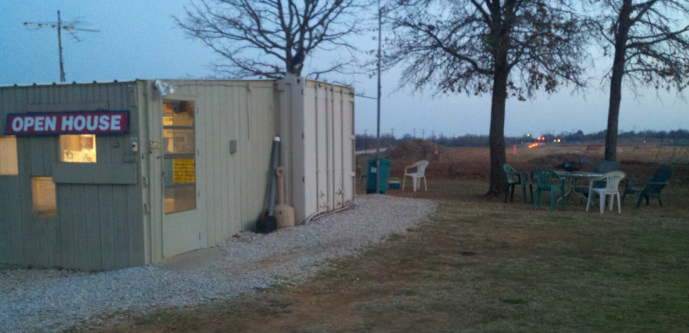 The photo above is posted on the blog today so that some members will not be in quite so much shock upon their next trip to the range. Bonnie, one of my first students for an NRA First Steps class, described it as "The Twilight Zone".

When we bought our little piece of nature on the hilltop in unincorporated Denton County in 1995, there was nothing but woods, brier patch and poison ivy between us and FM 407. Last week, Lantana's contractors suddenly clear cut the last of it, including many majestic trees that had to be at least 100 years old. Sickening. However, their sandbox, their rules.

As some may have noticed, a new elementary school is under construction about 400 yards to our southwest and is scheduled to open in August. In an ironic twist, I understand the CVS Pharmacy scheduled for construction on the northwest corner of 407 and Copper Canyon Road, has been delayed again - until their lot can be incorporated into the Town of Copper Canyon in order to possibly get a liquor license for beer and wine sales. Pre-platting drawings obtained from Denton County earlier this week indicate the balance of the Lantana property between us and several more commercial lots along 407 being "conceptual" intentions of 200+ more cookie cutter houses on postage stamp lots.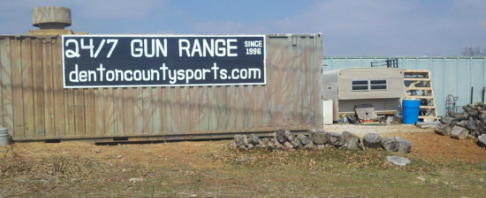 Again, at least "conceptually", the engineering drawings available to the public indicate 7 50 ft. wide residential lots just south of the new overhead electric lines that Lantana and CoServe recently re-routed in a new (not shown) 20 ft. wide easement along our south 400+ ft. property line. As indicated in the adjacent photo, Lantana's suddenly bulldozing the woods exposed our "back side" and 18 years of accumulated "stuff" not previously visible from the road. As an aside, the camo portion of the building is what is left of the original paint job (both front and back), intended to be "environmentally friendly", to get the building to blend into the woods. As it turned out, the camo paint job gave some people a perception that we were some sort of radical paramilitary organization and it was replaced with a solid color.

In any event, in order to get out swift messages, a new "24/7 GUN RANGE" sign was completed and installed yesterday (with plans to repaint the back side of all of the structures white). Time will tell what height wall Lantana opts to build to screen us from their latest development and them from our ongoing operations and accumulating "stuff". But, until they do build an appropriately tall wall, we may have to deal with their noise and dust. Meanwhile, home builders will certainly not be able to claim that they did not have notice of adjacent operations and "architecture".

I also plan to send a certified letter and a copy of this 3/7/14 blog post to at least the local Lantanta honcho, to make abundantly clear that we will have little or no sympathy for anyone who buys a house near three long-established 24/7 business operations and wants to whine later about the lights, sights, sounds or smells of any of them - or any other future business locating on our unincorporated property. Then again, many prospective new home buyers might be like Bonnie - and want to consider the purchase of one of the new (2-story?) cookie cutter houses to be able to walk to the gun range. And have one of the strongest Verizon cell phone signals obtainable in the rat race.

4-21-14 P.S. Lantana Board recently voted to NOT let CVS Pharmacy property be incorporated into Copper Canyon.